Augusta University and Savannah River National Laboratory Partner to Support Global Security Research, Workforce Development
May 1, 2023
AUGUSTA, Ga. – Augusta University and Savannah River National Laboratory are proud to announce a new agreement that formalizes their long-standing partnership and expands upon their shared mission to address global security issues.
Leadership from both institutions, along with faculty, staff and students from AU's School of Computer and Cyber Sciences and College of Science and Mathematics, celebrated the partnership and touted its benefits during an official signing event May 1 at the Georgia Cyber Center at Augusta University.
"Ours is a collaboration that, to put it simply, makes sense," said Neil MacKinnon, PhD, Augusta University provost and executive vice president of academic affairs. "With this new agreement, we can enhance the work that is already occurring while also laying the foundation for a bright and successful future together. Our partnership will help Augusta University students get more experience in fields that support SRNL's mission. We're also hoping to create more opportunities for SRNL employees to learn and grow by working with AU faculty, staff, and students. Through this partnership, we aim to create a vital pipeline to educate and train the next generation as we advance the mission of global security."
The partnership will focus on three key areas that are crucial to the security of not only our region or state, but also the nation and world at large. Those areas of focus include education and workforce development, collaborative research and technology development, and efforts to influence global security issues.
"We're excited to grow our partnership with Augusta University," said SRNL Associate Lab Director, Global Security, Tammy Taylor, PhD. "Through this agreement, we will enhance the educational experience of Augusta University students, bolster the pipeline for new SRNL employees, and create opportunities for SRNL employees to expand their knowledge and capabilities by mentoring and collaborating with Augusta University faculty, staff and students. Additionally, by leveraging the unique expertise of both SRNL and AU and our collaborative networks, we hope to expand the region's influence in global security issues."
The two institutions have collaborated in numerous ways over the years, from student internships and research projects to more long-term alliances, such as the appointment of Jeff Morris, PhD, to a joint faculty role in 2021. Morris and his students work alongside the SRNL team to advance research in cyber sciences.
"This partnership is an exciting step forward as Augusta University and SRNL work to prepare students for the complex challenges of the global security landscape," said Dillon Tauscher, an Augusta University graduate with a Bachelor of Science in Cybersecurity. He is now pursuing a Master of Science in Information Security Management from AU while working as an engineer at SRNL in its Global Security, Cybersecurity and Threat Assessments group. "Speaking from experience, students benefit immensely from these unique opportunities to learn from experts in the field and to contribute to meaningful research projects that address some of the world's most pressing security concerns. I felt confident in my abilities as I entered the workforce thanks to what I learned being a part of these types of projects and partnerships."
The new partnership's initial research projects will focus on cybersecurity, cyberphysical systems, data analytics and mathematical modeling, augmented and virtual reality, and quantum cryptography. Additionally, the partnership aims to bring in more entities from across the CSRA to help tackle these challenges and form a broader collaboration to expand the entire region's influence in global security issues.
"Augusta University and Savannah River National Laboratory are committed to promoting innovation, collaboration, and excellence in all that we do," said MacKinnon. "Our partnership is a perfect example of this commitment in action. By combining our respective strengths and expertise, we can make real progress toward our shared goals of advancing global security and enhancing the educational and professional opportunities available to our students and employees."
About Augusta University
As one of Georgia's four public research institutions, Augusta University offers customizable, accessible education on campuses in Augusta and across the state. Augusta University aims not only to be different, but also to make a difference — to reimagine and recreate the future of art, technology, education and health care. Home to Georgia's only public academic medical center and designated by the state as a health sciences center of excellence, Augusta University is dedicated to creating a safer, healthier and more equitable Georgia. Learn more at augusta.edu.
About Savannah River National Laboratory
Savannah River National Laboratory is a multi-program federally funded research and development center that's managed and operated by Battelle Savannah River Alliance, LLC (BSRA) for the United States Department of Energy's Office of Environmental Management. SRNL puts science to work to protect the nation by providing practical, cost-effective solutions to the nation's environmental, nuclear security, nuclear materials management, and energy security challenges Learn more at srnl.doe.gov.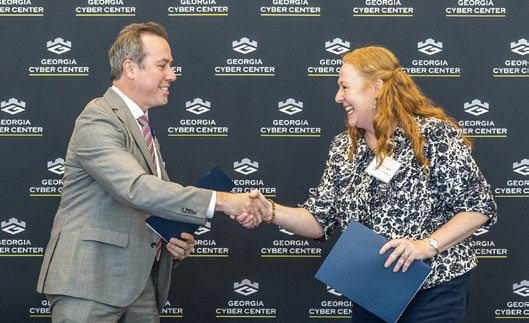 Augusta University Provost and Executive Vice President of Academic Affairs Neil McKinnon, Ph.D. and SRNL Associate Laboratory Director, Global Security, Tammy Taylor, Ph.D.