Plutonium Pit Production Program
SRNL performs a variety of engineering development and scientific research focused on advancing the nation's nuclear deterrence. These activities support the Savannah River Plutonium Processing Facility (SRPPF), an NNSA Capital Project, the Plutonium Modernization Program, as well as other NNSA missions. SRNL activities include the design, fabrication and testing of one-of-a-kind prototype systems including:
Hydride-Dehydride Casting, a system that will be used to recover valuable plutonium metal from legacy pits
Pyrochemical Processing, a system that will be used to remove decay products and purify plutonium metal for subsequent use
Vacuum Induction Casting, a system that will be used to produce metal components to predetermined specifications
Material Transfer System, which will be depended upon for all movements between confinement within the facility.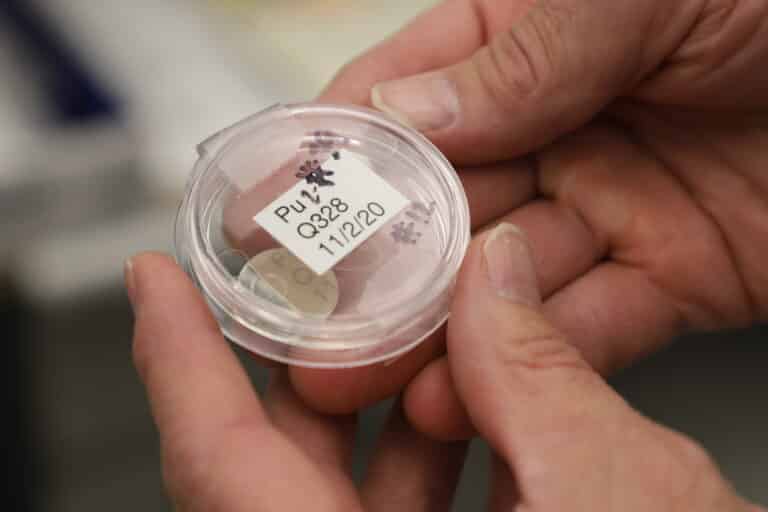 In addition to designing and testing these systems, SRNL has provided substantial input into the facility layout and designs for the for the Analytical Chemistry and Materials Characterization laboratories, a function that will be required to ensure the product meets Design Authority specifications, built and tested the performance of a mock-up sand filter system (for which the full-scale system will be employed to prevent potential contamination to the public), and investigated novel compositions for solidifying and disposing of aqueous wastes.
Further, SRNL has performed numerous studies focused on informing and optimizing process performance once the SRPPF becomes operational. Examples of these include
Investigation into the rate of corrosion of components within the Aqueous Recovery System
Machining studies to facilitate collection and compaction of turnings
Development of Image Quality Indicators for Non-Destructive Examination
The development of AR/VR simulations to allow personnel a chance to get a fully immersive feel for the operational environment, thus helping to identify potential design flaws/pain-points pre-emptively
Utilization of computational modeling and additive manufacturing techniques to streamline future operations, minimize waste, and/or increase output quality