Integrity, Teamwork, Innovation and Service are core values of SRNL and we work diligently to translate our research and development applications to create lasting societal and economic impacts. Simply stated, we put science to work to serve our nation and engage with our communities to foster a strong, resilient and informed society. Through excellence in community service, we lead by an example of service to our communities where we work, play and raise our families.
Education Outreach
Our educational outreach programs foster a love for science, technology, engineering and mathematics (STEM) among students and educators alike. Our innovative programs and resources empower teachers, inspire students, and unlock the wonders of the STEM world.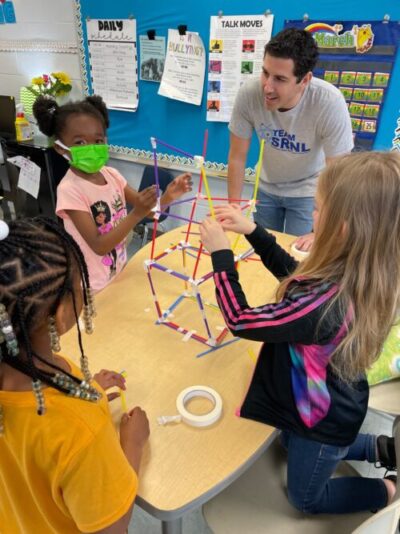 Behind the Science Virtual Tour
Embark on an extraordinary journey without leaving the classroom. A Behind the Science Virtual Tour takes students on immersive adventures, exploring scientific wonders and essential business functions of SRNL from the comfort of their own classroom seats. Students also have the opportunity to ask SRNL staff any questions in a live Q&A session. Participation in a Behind the Science Virtual Tour of SRNL is an exciting way to ignite curiosity and expand horizons. Virtual tours are available for those in grades 6-12 from October through March.
Nuclear Science and National Engineers Weeks
We embrace the power of themed weeks to shine a spotlight on important disciplines. During Nuclear Science Week in October and National Engineers Week in February, we offer exclusive STEM kits that delve into these fields. Students can uncover the marvels of nuclear science and engineering through interactive activities, fostering a deeper understanding and appreciation. If you are a teacher, STEM kits are delivered right to your school's doorstep.
Interactive Classroom and Community Demonstrations
We understand the value of hands-on experiences in sparking a lifelong interest in STEM. Our passionate Team SRNL volunteers work closely with classrooms across the Central Savannah River Area to deliver captivating interactive demonstrations and career conversations. These experts engage students with captivating experiments, leaving lasting memories and igniting their passion for learning.
Empowering Educators with Grants
We believe in supporting the dedicated professionals who shape our future leaders by offering grants for teachers to enhance their classroom resources. With these grants, educators can bring innovative STEM projects to life, ensuring every student has access to the best learning opportunities.
Join us on a journey of discovery, where knowledge knows no boundaries. Let us help you to inspire and equip the next generation of innovators, problem solvers, and critical thinkers. Together, we can ignite minds and empower futures.
For more information, contact Community and Education Outreach Coordinator Meagan Kinard at Meagan.Kinard@srnl.doe.gov or on 803-522-5001.
Community Outreach
Together, we team and partner with local businesses and nonprofits through community outreach programs to help make our local communities better, stronger, vital and sustainable.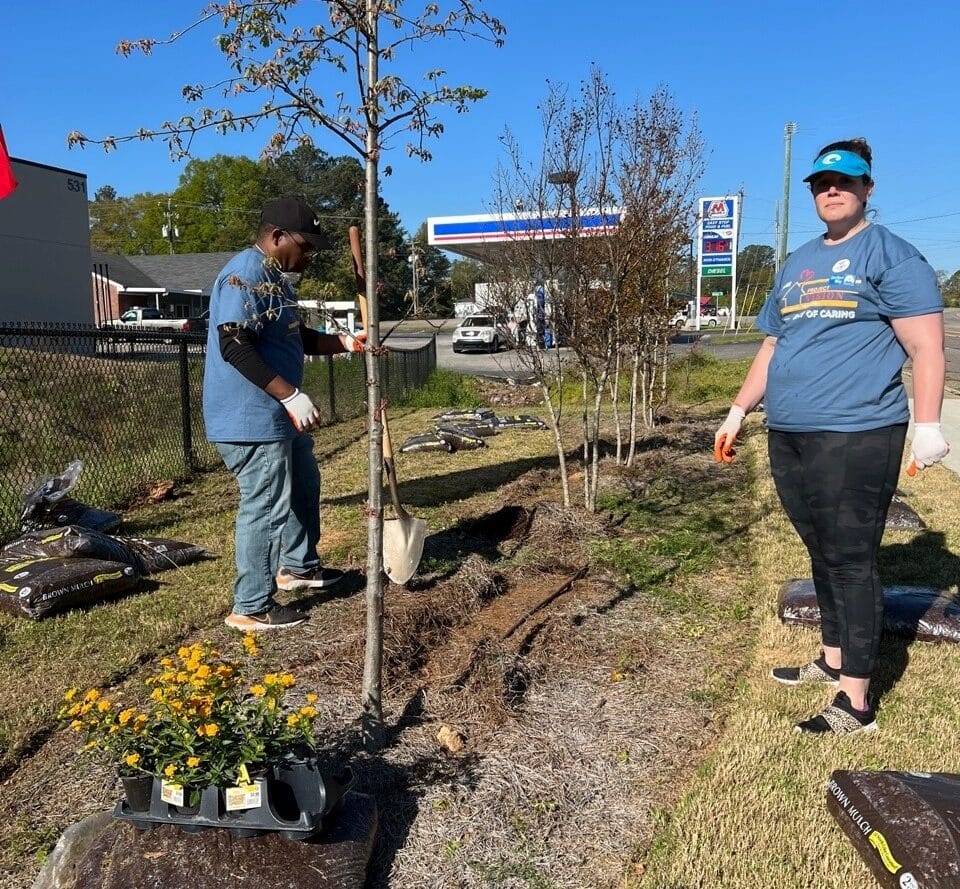 Partnership with Chambers of Commerce
SRNL is a supportive member of five local chambers of commerce across the Central Savannah River Area, creating a network of support that benefits businesses and communities alike. These partnerships enable us to understand the unique needs of each community and develop tailored programs that address those needs effectively.
Employee-Led Giving Campaigns
We believe in the power of collective action. SRNL facilitates employee-led giving campaigns, empowering employees to contribute to causes they are passionate about. Through these campaigns, we encourage a culture of philanthropy and promote employee engagement, making a positive impact within our communities. To date, these campaigns have raised $253,000 to help support our local communities.
Support of Local Nonprofits
SRNL is dedicated to supporting local nonprofits that make a difference in our communities. We actively seek out organizations that align with our values and provide funding, resources, and expertise to help them achieve their missions. By investing in these nonprofits, we aim to create sustainable and long-term change.
Volunteerism for Community Organizations
We strongly believe in the power of volunteering to effect change. Our volunteer organization, Team SRNL, encourages and organizes volunteer opportunities with local community organizations. By actively engaging with these organizations, we provide much-needed assistance while fostering a sense of belonging and camaraderie within our communities.
For more information, contact Community and Education Outreach Coordinator Meagan Kinard at Meagan.Kinard@srnl.doe.gov or on 803-522-5001.
Working Together to Create Lasting Impact in Our Community
Thank you for your interest in partnering with SRNL and our management company, Battelle Savannah River Alliance (BSRA), to make a positive difference in our community. To ensure that our resources are utilized effectively, we have established request guidelines that align with our mission and core values. When submitting a request, please consider the following criteria below. Please note that we do not support any political or religious affiliations: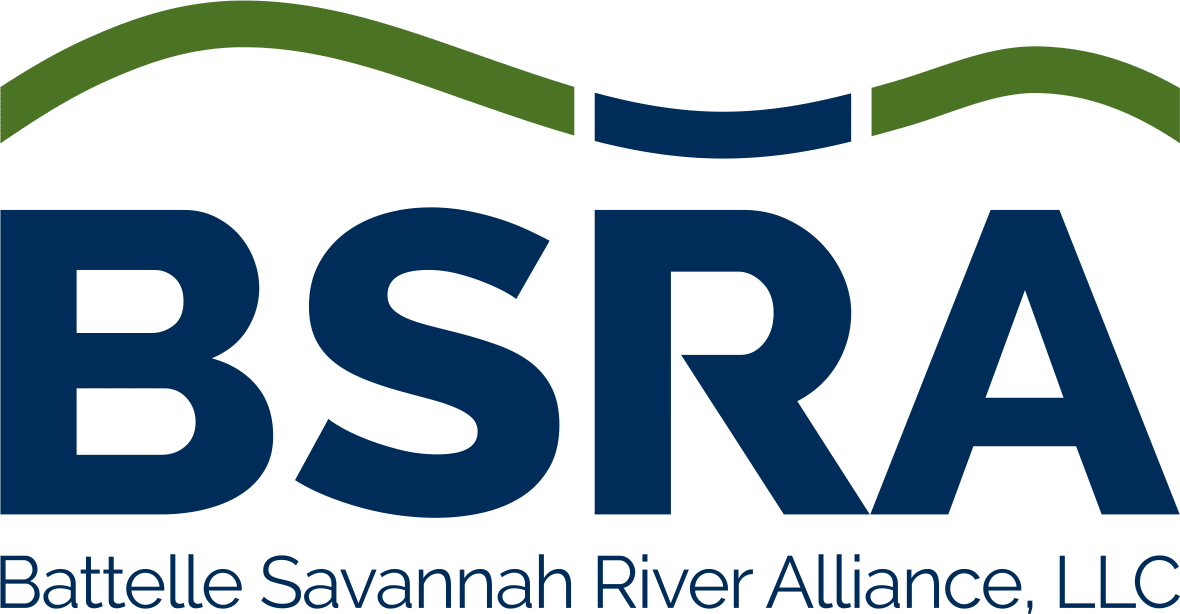 Increasing STEM Education Opportunities: We prioritize programs that promote Science, Technology, Engineering, and Mathematics (STEM) education. We believe in the transformative power of STEM and its ability to shape the future. Requests focusing on initiatives that inspire, educate, and engage individuals in STEM fields will receive special consideration.
Addressing the Needs of Underserved Populations: We are committed to addressing the needs of underserved populations in our community. Requests that aim to improve access to essential services, support educational equity, or provide resources and opportunities for disadvantaged individuals will be highly regarded. We strive to create an inclusive and equitable community for all.
Improving Quality of Life for People in the Region: Our goal is to enhance the quality of life for residents in the region surrounding SRNL. Requests that focus on initiatives related to health and wellness, environmental sustainability, community development, or cultural enrichment will be carefully evaluated. We aim to foster a thriving community where individuals can thrive and flourish.
Creating Community-Wide Impact: We are dedicated to making a significant and lasting impact on our community. Requests that demonstrate the potential for broad-reaching effects, encourage collaboration among multiple stakeholders, and have the capacity to inspire positive change at a community-wide level will be given strong consideration.
Please note that while we strive to support as many worthy causes as possible, our resources are limited. Therefore, not all requests may be approved. However, rest assured that every submission will be reviewed fairly and in a timely manner.
We encourage you to thoroughly outline how your request aligns with one or more of the criteria mentioned above in 100 words or less. Provide compelling evidence of the potential impact and demonstrate the feasibility and sustainability of your proposed initiative. Please email your request to SRNL's Community and Education Outreach Coordinator Meagan Kinard at Meagan.kinard@srnl.doe.gov.
Thank you for helping us to create lasting change and build a stronger, more vibrant community.