Savannah River National Laboratory, University of Georgia Select Thirimachos Bourlai for Joint Appointment
May 9, 2023
AIKEN, S.C. – Savannah River National Laboratory (SRNL) and University of Georgia recently selected Thirimachos Bourlai, Ph.D., for a joint appointment
Bourlai is an associate professor in the University of Georgia School of Electrical and Computer Engineering and has been an adjunct faculty at the Institute for Cybersecurity and Privacy. SRNL will collaborate with Bourlai in applying artificial intelligence and machine learning techniques to advanced manufacturing processes and systems.
"The ability to detect flaws or defects during manufacturing is critical for a variety of reasons, such as overall product quality, product reliability, and economic viability of a manufacturing process," said Deputy Lab Director, Science and Technology, Sue Clark, Ph.D. "Dr. Bourlai's experience in this area will strengthen SRNL's capabilities related to advanced manufacturing, such as flaw/fabrication defect detection in plutonium-manufacturing, additive manufacturing of materials and components, and spatial image analysis for change detection from aerial images."
"As a faculty member at UGA, I am honored to be joining SRNL, having the opportunity to connect talented students and personnel to support the lab's critical mission," said Bourlai. "By working together, we can deliver world-class innovative performance in various manufacturing processes and security related technologies, while also providing invaluable experiential learning opportunities for the next generation of scientists and engineers. I am excited to be the link to UGA and contribute our university's expertise and resources to help SRNL achieve its goal of being the nation's premier applied science laboratory in environmental management, national and homeland security, and energy security."
Bourlai's primary research focus areas include:
− Biometrics and Continuous Human Identification in the Wild
− Advanced Data Collection, Generation and Augmentation Activities
− Development of Prediction and Detection Models for Biometrics, Healthcare, Surveillance and Space Datasets
− Multispectral Imaging and Analysis using Machine and Deep Learning Algorithms
Bourlai also leads the Multispectral Imagery Lab at University of Georgia. The Multispectral Imagery Lab conducts research, development, evaluation and testing of multi-modal and multi-spectral data processing technologies to address national security challenges. The Multispectral Imagery Lab's research competencies include data collection activities, computer vision, machine and deep learning, data analytics, computational modeling, data visualization, signal and image processing, and computer science.
SRNL's Joint Appointment Program provides university faculty opportunities to engage in research and development addressing the nation's challenges in energy, science, national security, and environmental stewardship. Together, SRNL staff and joint appointees help ensure America's security and prosperity through transformative science and technology solutions. Joint appointees serve as a bridge between their university, SRNL researchers and students.
Savannah River National Laboratory is a United States Department of Energy multi-program research and development center that's managed and operated by Battelle Savannah River Alliance, LLC (BSRA). SRNL puts science to work to protect the nation by providing practical, cost-effective solutions to the nation's environmental, nuclear security, nuclear materials management, and energy manufacturing challenges (https://srnl.doe.gov/).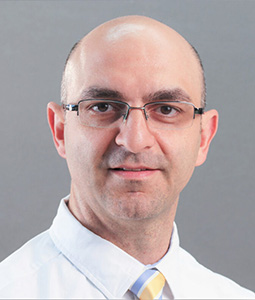 Savannah River National Laboratory and University of Georgia Joint Appointee Thirimachos Boulai, Ph.D.