AIKEN, S.C. (Jan. 8, 2020) – A little over a month ago, former U.S. Secretary of Energy, Rick Perry, recognized the achievements of teams and individuals across the department, including three Savannah River National Laboratory employees, Douglas Lowry, Craig Anderson and Anita Poore. The awards were presented at the Secretary's Honor Awards Ceremony on November 19 in Washington, D.C.
Lowry and Anderson received the Secretary of Energy's Achievement Award for their work on the Democratic People's Republic of Korea (DPRK) Denuclearization team, and Poore received the Secretary of Energy's Achievement Award for her support to the NA-231 Molybdenum-99 (Mo-99) team. Both awards involve SRNL work with a variety partners, including those from the U.S. Departments of Defense, State and Justice as well as those from the national lab complex – Argonne, Oak Ridge, Los Alamos, Pacific Northwest and others.
Given annually, "the Secretary's Honor Awards recognize DOE employees who demonstrate outstanding leadership, the highest levels of integrity, professionalism and dedication, and who through their accomplishments made contributions that significantly benefit the department and the nation" said Steve Erhart, Deputy Chief Human Capital Officer and Master of Ceremonies during his opening remarks.
The DPRK Denuclearization team played a major role in preparing for the historicU.S. – DPRK Summit in Singapore, as well as the follow-on Summit in Hanoi, Vietnam. Lowry, the Mobile Plutonium Facility (MPF) Team Lead, and Anderson, the MPF Facility Manager, supported the DPRK team by ensuring MPF capability readiness and other reach back support. The team worked to plan logistics and resolve potential scenarios. Their expert planning guaranteed clear roles and responsibilities and that resources could be made ready, when needed.
SRNL's MPF, a National Nuclear Security Administration (NNSA) Emerging Threats program, is a oneof-a-kind facility, designed to be deployed at any time to characterize, stabilize and package plutonium for shipment from any location in the world. This facility's success is credited to the 45 subject matter experts who specialize in receipt, stabilization and packaging operations.
This is the second Secretary of Energy award this program has received. The team won a similar award in 2017 for outstanding performance in the 2017 Corvina Loco Exercise. Anita Poore was recognized as part of the NA-231 Molybdenum-99 (Mo-99) team, which under the guidance of NNSA's Office of Material Management and Minimization, brought the first domestically produced Mo-99 to the commercial market in 30 years. The team helped ensure that Mo-99 is available to the U.S. healthcare system and reduced Mo-99 reliance on Highly Enriched Uranium (HEU) globally.
Mo-99 is a crucial medical radioisotope, used daily in over 40,000 medical diagnostic procedures in the United States, including heart disease and cancer. According to a 2016 National Academies of Sciences report, about 75 percent of the world's MO-99 supply was produced using targets containing uranium enriched to greater than 90 percent uranium-235, which is referred to as weapons-grade HEU. Converting Mo production to targets using Low Enriched Uranium (LEU), or uranium enriched to less that 20 percent uranium-235, removes HEU from civilian use and reduces the risks that it could be used for illicit purposes.
Though Poore, a Senior Fellow Engineer in the Hydrogen Processing Group with more than 30 years at SRNL, is the only SRNL employee listed on the award, she credits broad SRNL teamwork to the successful support of this project.
"SRNL involvement includes personnel from Chemical and Environmental Sciences, National Security and the Science and Technology directorates," she said. "Tritium Design Engineering and Process Control and Automation Engineering have played key roles as well."
Specifically, Poore highlighted contributions from Dr. James Klein, who initiated SRNL Mo-99 support, Tracy Rudisill, the actinide (waste) technical consultant, as well as Dr. Paul Cloessner and Dr. Natraj Iyer.
"The United States is very much dependent on foreign suppliers for life-saving medical isotopes," she said. "SRNL provides significant technical contributions that will ensure continuation of important nuclear medicine diagnostic testing in the event of a foreign supply interruption."
The full ceremony can be viewed on the Department of Energy website at https://www.energy.gov/ secretary-s-honor-awards-and-presidential-rank-awards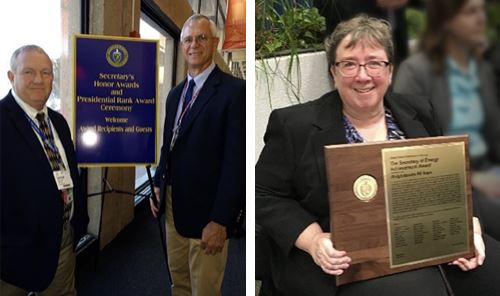 Doug Lowry (left) and Craig Anderson attend the Secretary's Honor Awards Ceremony in Washington, D.C
Anita Poore accepts the MO-99 team award during the Secretary's Honor Awards Ceremony in Washington, D.C.
###