Savannah River National Laboratory and Augusta Technical College Sign MOU to Establish Staff Workforce Development and Advanced Manufacturing Collaborations
September 6, 2023
AIKEN, S.C. (Sept. 6, 2023) – Augusta Technical College President Jermain Whirl, Ph.D., and Savannah River National Laboratory (SRNL) Associate Laboratory Director Tammy Taylor, Ph.D., officially entered into a new memorandum of understanding (MOU) with a ceremonial agreement signing Sept. 5 in the Joseph and Jean Rogers Executive Boardroom on the Augusta Campus of Augusta Technical College.
This is the second MOU SRNL has signed with a Central Savannah River Area (CSRA) university or college in the last four months. In May, SRNL signed a workforce and research development agreement with Augusta University. This MOU with Augusta Tech will give SRNL's Global Security Directorate the opportunity to provide practical learning opportunities for students in certain technical programs, lay out a career pathway for those same students, and expand its academic research network.
"This partnership is special because the students who go through this training program and earn the specified degrees – Information Technology, Electrical Training, Additive Manufacturing and 3D Printing – could be quickly onboarded at SRNL and fill a need we have," stated Taylor. "SRNL is excited to give Augusta Tech students an opportunity to take what they learn in the classroom and apply it in mission work at a Department of Energy (DOE) national laboratory."
Augusta Tech, a unit of the Technical College System of Georgia, is a public postsecondary academic institution that builds a skilled workforce and economically stronger communities through high-quality, innovative, and affordable career- advancing credentials. SRNL is the applied research and development laboratory for the DOE's Office of Environmental Management. Both parties are known for their innovative and practical applications of strategies and technology designed to address major national and international environmental, national security, and energy issues. In view of these common interest and objectives, both desire to foster technical collaboration in areas of mutual interest by:
Education and Workforce Development
Apprenticeship and Internship Programs
Advanced Manufacturing Collaborative
"Augusta Technical College is excited to expand our partnership with SRNL. We're ready to launch a new apprenticeship technician pathway program in January 2024 that builds on our current program in hopes of growing the labor force at the site. Augusta Tech is thankful for the leadership at SRNL for their continued commitment of providing well paying, sustainable jobs for members of our community. This is a win for Augusta Tech, SRNL and the region collectively," stated Whirl.
Click here to view photos from the signing event.
About Augusta Technical College
Augusta Technical College, a unit of the Technical College System of Georgia, is a public postsecondary institution that provides academic and technical education, customized business and industry training, continuing education, student support, economic development, and adult education services to its service area (Burke, Columbia, Lincoln, McDuffie, and Richmond Counties) at a competitive financial value. Associate of Science Degrees, Associate of Applied Science Degrees, diplomas, and technical certificates of credit are provided through traditional and distance delivery methods. For more information, visit augustatech.edu.
About Savannah River National Laboratory
Savannah River National Laboratory is a United States Department of Energy multi-program research and development center that's managed and operated by Battelle Savannah River Alliance, LLC (BSRA) for the Department of Energy's Office of Environmental Management. SRNL puts science to work to protect the nation by providing practical, cost-effective solutions to the nation's environmental, nuclear security, nuclear materials management, and energy manufacturing challenges (https://srnl.doe.gov/).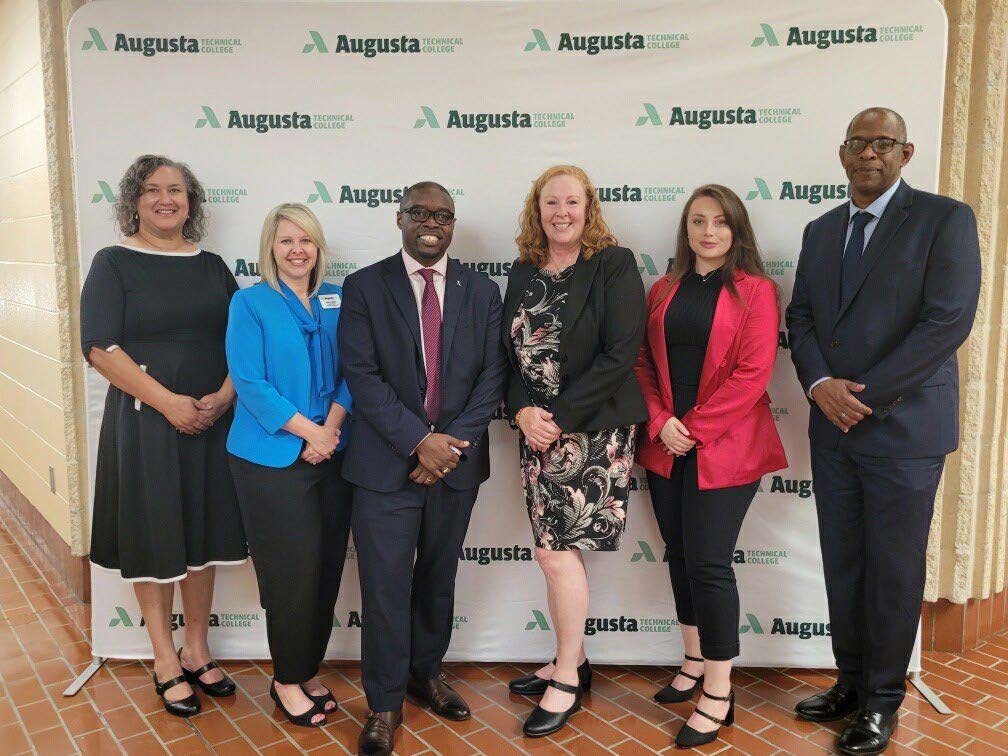 Dr. Melissa Frank-Alston, Provost (Augusta Tech); Julie Langham, Vice President, Economic Development (Augusta Tech); Dr. Jermaine Whirl, President (Augusta Tech); Tammy Taylor, Associate Lab Director, Savannah River National Laboratory (SRNL) Global Security Directorate (GSD); George Floyd, Chief of Staff, SRNL GSD; Jacqueline Brigido, SRNL GSD.
###