Tech Briefs
Savannah River National Laboratory
Controlled Release of Hydrogen Isotopes from Composite Nanomaterials
Technology Overview
Savannah River National Laboratory (SRNL) has developed a library of novel nanoscale materials for targeted, reversible, high capacity hydrogen isotope separation and storage. These multifunctional nanomaterials combine a high-efficiency hydrogen absorbing material with a non-contact energy absorbing material in a composite nanoparticle.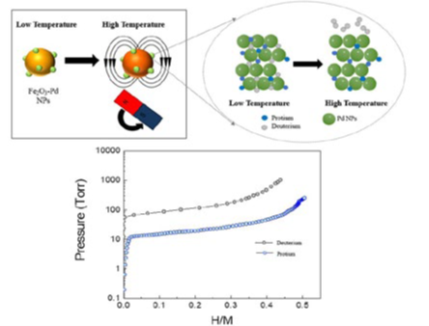 Benefits
Efficient storage of hydrogen isotopes
Controlled and targeted release of hydrogen
Selective release of hydrogen isotopes
High storage density Safe storage of hydrogen
Applications
Hydrogen isotopes separation and storage
Rechargeable batteries
Hydrogen absorption chillers
Description
SRNL has discovered a class of multi-functional nanomaterials for hydrogen isotope storage, separation, and controlled release. This invention includes a bed of composite nanoparticles and an energy source configured for non-contact delivery of energy to the magnetic or plasmonic material via an alternating magnetic field or electromagnetic wave. The system can also include a hydrogen source upstream of the bed and/or a hydrogen collection or combustion facility downstream of the bed. The rate of hydrogen isotope release and/or the amount of hydrogen isotope released from the absorbing material can be tailored based upon the magnetic field strength applied or the wavelength of the energy source used. These systems are simple, viable and straightforward to implement and can replace existing bulky and operational complex systems such as hot/cold nitrogen or electric heaters. With a very small footprint this technology provide a safer method of handling radioactive materials, e.g. tritium.
Such quantum dots are generally distinguishable from quantum wires and quantum wells. By controlling and/or modifying the size, the chemical modifications, etc. of the carbon quantum dot, various properties (e.g., optical, chemical, electrical, etc.) can be controlled.
As a result, there is a need to provide an improved method of preparing carbon quantum dots. In particular, there is a need to provide a method of preparing carbon quantum dots that allows for the ability to control or tune the properties, such as the photophysical, electronic, and/or quantum confinement properties.
Intellectual Property
This technology and methods for its use have been granted U.S. Patent No. 10,507,452 B2 (December 17, 2019), "Controlled Release of Hydrogen from Composite Nanoparticles" and is available for licensing.
Partnering Opportunities
SRNL invites interested companies with proven capabilities in this area of expertise to develop commercial applications for this process under a cooperative research and development agreement (CRADA) or licensing agreement. Interested companies will be requested to submit a business plan setting forth company qualifications, strategies, activities, and milestones for commercializing this invention. Qualifications should include past experience at bringing similar products to market, reasonable schedule for product launch, sufficient manufacturing capacity, established distribution networks, and evidence of sufficient financial resources for product development and launch.
Contact Information
Savannah River National Laboratory
E-mail: partnerships@srnl.doe.gov