"What we can do spans the breadth of what our customer may need. It's fully scalable…"

– Stephanie Jacobs, Director of the RCE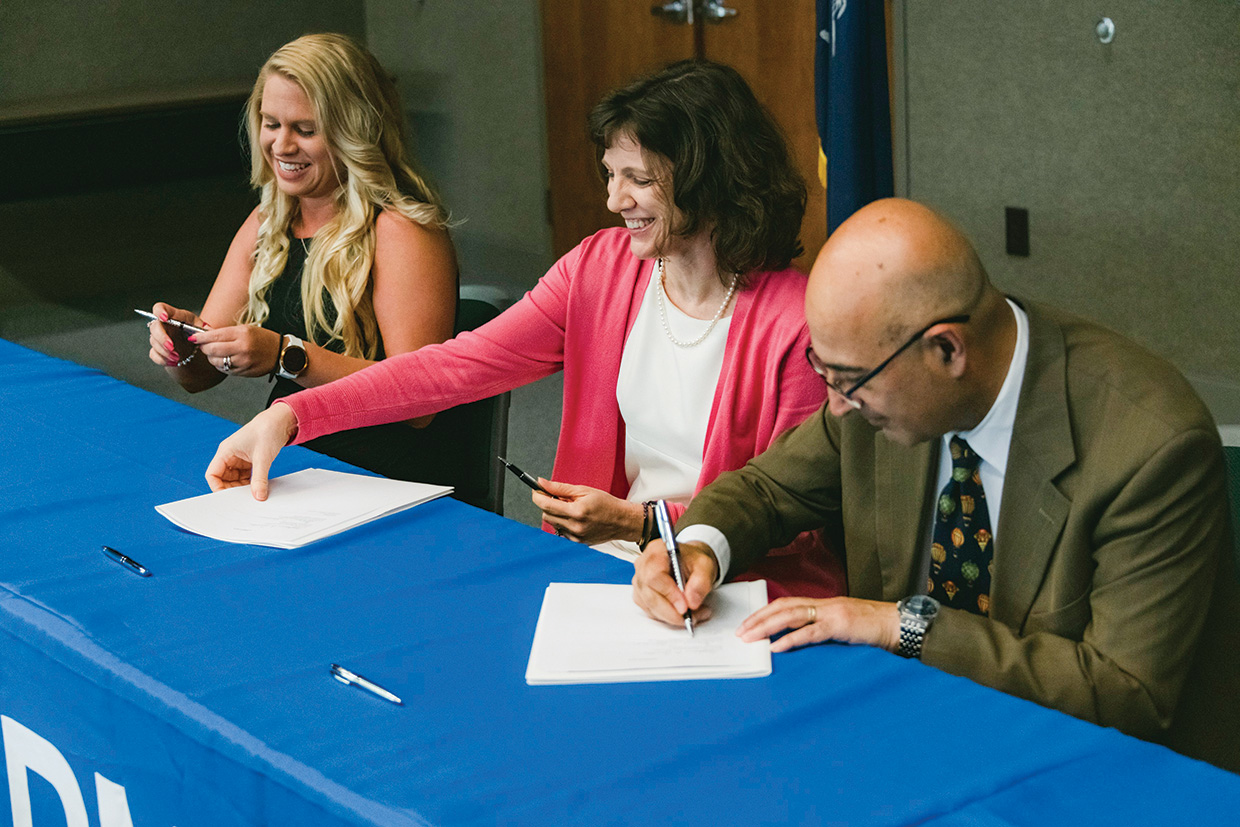 Stephanie Jacobs, Connie Herman, and Vahid Majidi signed the agreement creating the RCE in 2022.
photo: Savannah River Site Photography
A little more than a year ago a charter was signed formally establishing the Regulatory Center of Excellence (RCE) at Savannah River National Laboratory (SRNL), ushering in a new resource to sites across the DOE complex facing the toughest regulatory compliance challenges.
Designed as an "as-needed" resource for sites, the RCE provides innovative strategies that address mission-critical, regulatory compliance challenges. The RCE is able to provide this support because of its ability to draw upon the collective expertise of SRNL, Longenecker and Associates, the Network of National Laboratories for Environmental Management and Stewardship (NNLEMS) and the Battelle Savannah River Alliance's (BSRA) University partners to serve as a critical resource for connecting research developments and regulatory compliance strategies. Within the RCE team itself is more than 90 years of collective experience available to its customers.
As a resource, the RCE is designed to be scalable, relevant to the scope or complexity of a problem the RCE is invited to work on. "We bring in only the specialists who are needed for the challenge presented to us, and bring them in as they are needed," said Stephanie Jacobs, Director of the RCE.
"What we can do spans the breadth of what our customer may need. It's fully scalable, if you need someone who is more on the education side for educational outreach, we can provide that strategy. If you need highly technical assistance to find a solution, we can provide that expertise. Need someone to help you develop a strategy to engage stakeholders about your highly technical solution? We have specialists to provide you with that expertise," said Jacobs.
"What SRNL and our partners bring to the table is the demonstrated ability to facilitate communications between DOE sites, communities and regulators and bringing in those groups' perspectives," said Connie Herman, Associate Laboratory Director for Environmental and Legacy Management at SRNL.
What the RCE is not, is a strike team or other kind of deployable asset. "The RCE is not a deployable force, meant to take over operations or even augment a staff," said Jacobs. "The RCE is a resource, a conduit to innovative solutions to our customers' toughest challenges."
As an example, one of the RCE partners is the University of Georgia's School of Public and International Affairs. "We have a very deep bench of experts – if we can't help you directly in the School of Public and International Affairs, we can connect you with experts on campus to talk to," said Justin Conrad, RCE member and Associate Professor at the University of Georgia. "The RCE can advise in a number of areas from technical issues to communications issues but what the RCE is especially good at is overcoming barriers to statutory compliance and risk mitigation that stem from regulatory and public engagement challenges. The RCE does not have a magic blueprint, and that in fact a standard blueprint would be unhelpful as these challenges are highly contextualized," said Conrad.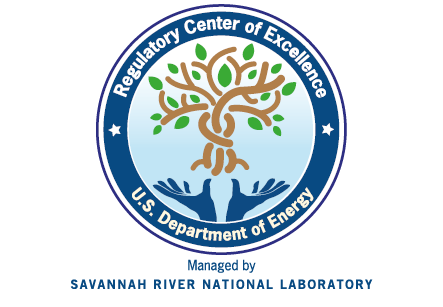 One of SRNL's partners, Longenecker & Associates, Inc., has several staff who were state or federal regulators who bring a unique perspective to regulatory issues. "They get both sides, they understand what the state, DOE and the contractor are looking for and that allows Longenecker & Associates and the RCE to identify areas for innovation, collaboration and compromise," said Katie Roberts, Vice President for Regulatory Assurance at Longenecker and Associates. "Our stakeholder and engagement outreach expertise are well-known throughout the DOE complex."
The RCE is already adding value in the DOE complex, working on issues such as:
Per- and polyfluoroalkyl substances (PFAS)
State regulatory Oversight Models for Consolidated Interim Storage Facilities
Groundwater and Soil Remediation Regulatory Challenges
Comprehensive Regulatory Analysis on Requirements from DOE Orders 435.1 and 458.1 for Closing Sites with Soil Contaminated with High Level Waste
Analysis of the Dispute Resolution Process for State of California Environmental Agency Department of Toxic Substances Control Administrative Order of Consent
Within the RCE's charter is the task of developing a "warehouse" of best practices for regulatory compliance outreach, education and communications. The concept of operations is to build a virtual library with case study summaries and the planning, strategy and collateral documents associated with successful regulatory compliance projects.
The technical, regulatory and communication challenges inherent in DOE-EM work require constant attention, expert management and superior execution. The RCE is poised to provide counsel, expertise and strategies that will help sites and DOE-EM and other sites meet those challenges and excel in mission completion.