Fusion Demonstrations at Savannah River
SRNL Fast Facts
Located at the U.S. Department of Energy's Savannah River Site near Aiken, South Carolina
Operated by Battelle Savannah River Alliance (BSRA)
The National Laboratory for DOE Office of Environmental Management
Provides subject-matter expertise in a variety of scientific and engineering disciplines to help find solutions to complex problems using modeling, simulation and data analytics
BSRA has partnerships with University of SC, Clemson University, University of Georgia, Georgia Tech, and South Carolina State University and is leveraging those to advance fusion energy
Contact Information
Dave Babineau
803-507-5428
Dave.Babineau@srnl.doe.gov
Fusion Demonstrations at Savannah River A Synthesis of Research, Technology and Location
The Opportunity: Abundant, Sustainable, Affordable Clean Energy
Fusion can play a major role in the energy transition as a firm, non-carbon emitting power source.
Significant technical advancements in fusion have already been made that enable a 50 times reduction in the fusion machine size while maintaining the same energy production. The first small-scale fusion machines utilizing this concept are scheduled to be tested in 2025.
Companies have received over $4.3 billion in private investment for commercialization of fusion energy technologies and 71 percent of those companies believe that they can have grid-connected fusion pilot plants of 50 MW or more by 2030.
The National Academy of Science emphasizes the need for Public-Private Partnerships (PPPs) along with the formation of national teams to pursue fixed price milestone-based PPPs, which were successfully used by NASA to make major advancements in commercial space flight and revolutionize the industry.
Fusion Energy Demonstrations at Savannah River
In addition to leveraging years of experience working with tritium, the unique resources at Savannah River Site (SRS) can help advance the commercialization of fusion energy by locating demonstration facilities at SRS or siting fusion plants at the site. Advantages of locating a fusion facility at SRS include staying within preapproved tritium inventory amounts, exceptional site characteristics, and having defined environmental analyses.
SRNL is pursuing the creation of TRITON for tritium R&D by repurposing the waste solidification building at SRS
SRS Site Advantages
Tritium R&D Facility: SRNL is pursuing the creation of a tritium research and demonstration facility for tritium by repurposing a building that was descoped from a previous project and is currently unused at the Savannah River Site.

This creates a Category 2 nuclear facility that could enable tritium R&D with inventories up to 1 kilogram
~8000 sq. ft. or 30 percent of the available space in this building could be made available for a fusion fuel cycle demonstration
Would also leverage research and testing capabilities needed from NNSA missions advancing both national security and fusion energy.

Well Characterized Site: SRS covers approximately 198,000 acres (310 square miles) adjacent to the Savannah River in Aiken, Barnwell and Allendale counties of South Carolina. Facilities account for approximately 5 percent of the SRS area; with the exception of facilities, land cover is a wide variety of natural vegetation types.
Cooling Water: The two main bodies of water on site – Par and L Lake – are man-made. They were constructed to provide cooling water for site reactors. SRS is bounded by the Savannah River for approximately 35 river miles, which also provides ample cooling water.
Transportation: SRS has its own railroad system, which services all major facilities. The rail network includes a main line of the CSX Railroad and the site-wide DOE-owned rail system. Additionally, a barge slip is situated on DOE property along the Savannah River.
Distance from Public: SRS is located approximately 10 miles from the public and this can potentially lower the source term in accident scenarios from tritium inventories.
Connection to the Grid: SRS is home to approximately 125 miles of electrical transmission lines supplying about 50 MW of electricity. The electrical grid on SRS operates at 115kV and draws power from three transmission lines on separate rightsof-way from South Carolina Electric and Gas. SRS also has a tie-in line to the Georgia Power Vogtle Electric Generating Plant.
Lower Environmental Risk: SRNL and DOE have conducted environmental surveys and have the NEPA and other required documentation for location of advanced reactors at SRS. While there are ongoing efforts to evaluate how regulations will be revised to be more in line with their low-risk profile, planning fusion pilot plants at a location that has commensurate documentation in place to meet current regulations reduces risk.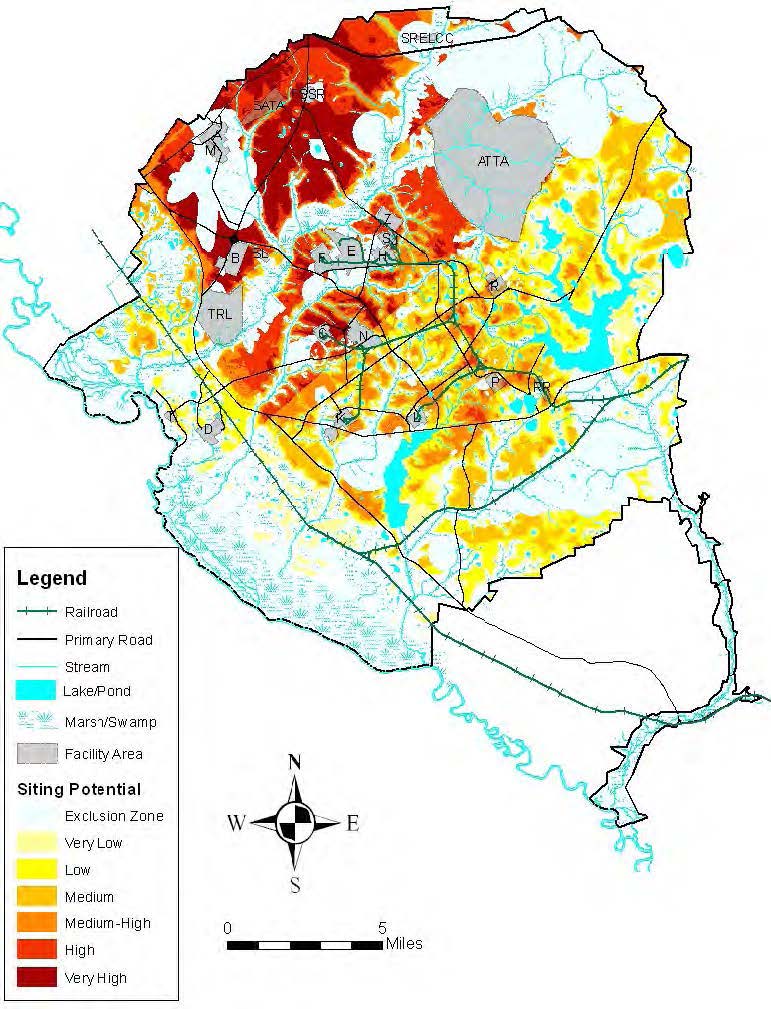 SRNL, the applied research and development facility located at SRS, has more than 50 years of technical experience in aspects of nuclear research. SRS's unique combination of nuclear material inventory, laboratory expertise, infrastructure, safety culture, location and other factors make this a natural fit.